Here are 8 unique ways to build in public 👀
No, you don't always have to post screenshots of your app or share journal entries.
Thanks to this week's newsletter sponsor: Onespot.
Onespot is a brand new no-code platform for making mobile apps & websites for small businesses, projects, personal portfolios, organizations, teams, events, etc.
It's designed to be the world's first app builder that's so easy you can make and manage a mobile app entirely from your phone. And the apps come with push notifications, member management, user groups, account types, Google Sheets integrations, and lots more, with new features released weekly.
If you're an early adopter or a builder in the no-code community, the founders would LOVE to hear from you. They recently graduated from the Alchemist Accelerator, launched the first version of their product, and have started growing exponentially.
Try out their product at 1spot.app, or search for "onespot" on the iOS/Android app store. And let them know your feedback — suggestions, ideas, complaints, feature requests, and memes are all welcome. Message them right in the app, or email the CEO directly at sean@seabirdapps.com.
Most people who are just getting started with building in public assume there's only one way to do it right.
Early on in my journey, I felt the same and was constantly posting 'daily updates' on my Twitter. It was a tweet that would contain a daily summary of my actions and key wins. It felt dry and after a while I quit because there was no variety in my content and it was all looking too monotonous.
Then I spent about 100-150 hours scouring the Internet (predominantly Twitter) to study and learn how many different types of 'building in public' content formats there are.
I built a huge Swipe File out of that research and now that's my secret muse. From time to time, I take a peek at the Swipe File and get inspired to try out a new 'build in public' style/format. It's such a time saver and a powerful weapon in my content arsenal.
Below is a sample from that for collection — a few hand-picked examples to spark your imagination: ⚡️
Here are 8 different ways to build in public so you and your audience never get bored:
1. Share screenshots
Let's start with the classic method. You can share an internal screenshot (something you'd typically post on your company Slack) in the public sphere.
Advantages:
It builds curiosity among your audience

It shows progress and growth
Caveats:
Be cautious enough to NOT post any customer/sensitive info (duh!)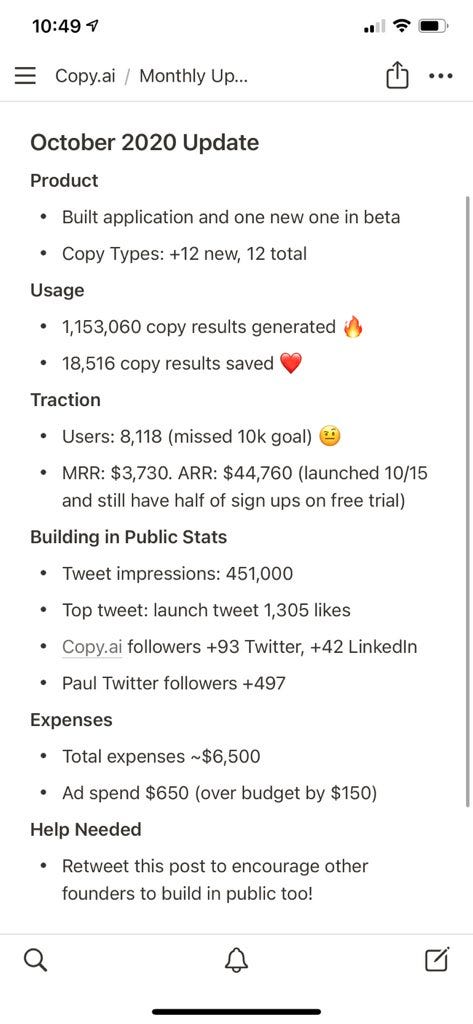 2. Share a daily/weekly status
This one is another classic example. You can share a recap of your day in terms of key stats/metrics and show your journey.
Advantages:
Super simple format

Helps you reflect on your day and get perspective
Caveats:
If you have 'very impressive' stats, that can attract copycats quickly.

However, at some point in your journey (now or in the future), there will be copy cats. Ultimately, no great company or project is immune from this. It's better to acknowledge that and focus on other differentiators like execution speed, community and customer-centric company culture.
Daily
interiorai.com
update 54 total customers now @ $1,390/mo MRR $2,783/mo free user costs $295/mo paid user costs $3,078/mo total costs -$1,688/mo profit (eg losing money)
interiorai.com
Interior AI Free: Interior Design Ideas and Virtual Staging App using Artifical Intelligence
Get interior design ideas using Artificial Intelligence and virtually stage interiors for real estate listings with different interior styles.
3. Highlight and celebrate your customers
Your build in public content doesn't always have to be about you. You can choose to lift other people up.. especially offer exposure and limelight to your customers.
Advantages:
This is a win-win situation because this way your customers feel appreciated and your audience also learns about how your business is serving a variety of customer use cases.

You can create a lot of content if you choose to highlight a wide range of customers you are serving
Caveats:
Get consent from your customers if you're planning to share their details or screenshots (many would be ok, but just to be on the safe side)

Give them credit and tag their social (Twitter) accounts so they feel included
4. Share a really small win
When you're running out of new content ideas, just reflect on your day or week and share a small win. Many people wait months to post content because they are looking for milestones that can be 'impressive' to others. But you can choose to celebrate each step of the way thereby becoming more relatable.

Taglines.ai
Update: MRR now $24. 300% d/d growth. Humbled 🙏.
Paul Yacoubian
@PaulYacoubian
https://t.co/2e2vJGIp0Z just hit $6 MRR. 100% d/d growth. Insane 🤯.
Advantages:
Allows you to practice humility and gratitude

You can trace all the baby steps and small milestones one day in the future

Your wins become more relatable because they are small

Helps your audience realize how even marathons begin with baby steps
Caveats:
Don't expect massive engagement for these types of content

Make sure you share a win that is meaningful to you and not every random win

Do this in moderation.. because it can get too noisy if you share 10 wins a day that are too small
5. Teach what you learned
I personally love and admire this content type. This is one of the most rewarding methods to building in public. Not only does this give you a ton of credibility and boost your social capital, it's also incredibly fulfilling to share your lessons so others can hopefully benefit from them.
Advantages:
You become more of a giver each time you share

You attract other kind people who will want to help you in your journey
Caveats:
Make sure you acknowledge that you don't have all the answers but willing to listen and learn from others too
6. Share proven playbooks that worked
If you've experimented with various tactics in your journey and stumbled across one that succeeded really well, you can share that as a playbook to help others. Often times, you underestimate the power of what's obvious to you. But remember, there are thousands of people who are in your shoes from 3-4 years ago who might benefit from your playbooks.
Advantages:
Adds credibility to you as an expert

You can document and reference your playbook in the future for something else
Caveats:
7. Share the insider view
People love to know how things work. There is an innate curiosity on understanding specific processes and workflows that might be new to someone. As a founder, you are probably privy to hundreds of such work flows and tools. Feel free to share an insider view once in a while and show the "back office" of your operation.
Advantages:
Helps inspire other people/founders

Allows you to get feedback and suggestions on your workflows

Helps normalize the truth that there is NO over night success, everything takes time and evolves slowly
Caveats:
Once again, be cautious to NOT share any sensitive customer info
8. Share vulnerable parts of your journey
A lot of founders only choose to share the highs. But that's obviously an incomplete picture of the journey. Be the kind of person who's vulnerable and authentic to share not only the highs but also the sucky parts of building a business.
Below are 3 of my favorite examples:
Example #1:
Josh Fabian
(CEO of Metafy)
Spare 5 min and read this incredible post here. Josh's way of building in public is by publishing investor updates publicly (which are typically circulated only within the investor group). His openness and vulnerability (and humor!) shines through his writing. Read all the letters here. Listen to my interview with Josh to get to know him a bit more.
Example #2:
Warren Shaeffer
(Founder of Knowable)
Warren went through a roller coaster ride as a high-growth tech CEO in Silicon Valley and he chose to share not just the rosy moments. This thread which he published was one of the most unique pieces of content I've seen ..and his sheer honesty and relatability is magnetic. Watch my interview with him to get to know him more.
Example #3:
Sharath Kuruganty
(Co-founder of Shoutout)
Sharath is an all-star when it comes to "building in public" humility, honesty and owning up to the losses in the journey.
Advantages:
Sharing your hardest moments as a founder makes you more brave

Gains respect and props (because it's not easy being vulnerable)

Vulnerability builds trust and integrity
Caveats
Make sure you get consent from your immediate team/co-founders if you're sharing anything that might have an affect on them. Usually should be ok.

Well, that's a wrap for now. What did you think?

---
In summary, here are the major takeaways for you to remember from this post:
Share screenshots

Share a daily/weekly status

Highlight and celebrate your customers

Share a really small win

Teach what you learned

Share proven playbooks that worked

Share the insider view

Share vulnerable parts of your journey
Bonus:
Check out this amazing resource by Paddle: "10 eye-catching examples of "building in public"
That's all for now. Thank you for giving your attention and checking this post out!
Would really appreciate it if you can take 5 seconds and pay it forward to help someone else leverage these tips by sharing this article on Twitter/Linkedin and tag me (@thisiskp_). Also, I have 1 ad/sponsorship slot left for this newsletter for this month. DM me or reply to me if you're interested. Thanks again!